Alitalia Airlines Flight Delay Compensation
If your Alitalia Airlines flight delays for more than 3 hours, or was cancelled without prior notice, you may be eligible for compensation up to €600 based on EU 261 rule.
Enter your flight details and check how much you can claim:
Claim Alitalia Flight Delay / Cancellation Compensation
Alitalia is an EU registered air carrier of Italy. So all the passengers who faced inconvenience due to delays or cancellation, can claim compensation up to €600 from the airline in accordance with EC Regulation 261/2004.
European Union Regulation (EC) No. 261/2004 states that if flight delays for more than 3 hours or flight gets cancelled without prior notice or passengers were denied boarding due to overbooking can claim compensation up to €600 ($720).
So if you want to claim Alitalia flight compensation you can contact us – Claim Flights. We will let you know about your rights and claim compensation on behalf of you.
You can check the amount Alitalia owes for you using our free flight compensation checker tool by just entering your flight number and date.
Alitalia Airlines
Alitalia airlines headquarter and main hub are located at Fiumicino Airport, Rome, Italy. Alitalia is the national airline and flag carrier of Italy. The airline is also known as Alitalia – Societa Aerea Italiana. Milan – Linate Airport is the secondary hub of Alitalia airline.
Alitalia Airlines IATA code is "AZ". Alitalia airline was established in 2008, after the merger of two bankrupted airlines of Italy namely, Alitalia – Linee Aeree Italiane and Air One. Then newly formed airline Alitalia – Compagnia Aerea Italiana (CAI), started operating from 13th January 2009.
In 2010, after a year of operations, it was announced by the airline that they had carried 22 million passengers, which increased to over 23 million passengers in the year that followed. Alitalia is also a founding member of Skyteam – the 2nd largest airlines alliance in the world.
In 2014, the merger of Alitalia (51%) with Etihad Airways (49%) was announced and the airline changed its name to Alitalia – Societa Aerea Italiana (SAI). Alitalia CityLiner S.p.A. is the subsidiary airline of Alitalia, which operates short-haul and regional flights.
Alitalia Airlines Codeshare Agreement
Apart from SkyTeam, the other airlines with whom Alitalia has code-share agreement are as follows: Aeroflot, Aerolineas Argentinas, Bulgaria Air, China Airlines, Air Europa, Air France, Air Malta, Air Serbia, Air Berlin, Air Corsica, Azerbaijan Airlines, Etihad Airways, Etihad Regional, Air Seychelles, Air Baltic, Czech Airlines, Delta Air Lines, Kuwait Airways, Hainan Airlines, Flybe, Gol Transportes Aéreos, China Eastern Airlines, China Southern Airlines, Croatia Airlines, Korean Air, TAROM, Uzbekistan Airways, HOP!, Jet Airways, KLM, Saudia, SriLankan Airlines, TAP Portugal, Middle East Airlines, Montenegro Airlines, Vietnam Airlines, Virgin Australia, Luxair, Niki and Royal Jordanian.
Alitalia Airlines Fleet Size & Destinations
Alitalia airline has total of 102 fleets as of October 2017. Alitalia has range of aircrafts which includes Airbus A330 and Boeing 777 for long-haul destinations, for medium haul destinations Alitalia prefers Airbus A321, A320 and A319 while for short haul destination airline has Embraer ERJ-175 and Embraer ERJ-190.
Alitalia airline has a vast operation in Europe and also in Asia, Africa and American countries. The following are some of the most important destinations of Alitalia airline:
| Sr. No. | Country | City |
| --- | --- | --- |
| 1 | Italy | Alghero, Ancona, Bari, Bologna, Brindisi, Cagliari, Catania, Comiso, Florence, Genoa, Lamezia Terme, Lampedusa, Milan, Naples, Olbia, Palermo, Pantelleria, Pescara, Pisa, Reggio Calabria, Rome, Trapani, Trieste, Turin, Venice, Verona |
| 2 | Spain | Barcelona, Ibiza, Madrid, Málaga, Minorca, Palma de Mallorca, Tenerife |
| 3 | Greece | Athens, Corfu, Heraklion, Mykonos, Rhodes, Santorini, Thessaloniki |
| 4 | United States | Boston, Chicago, Los Angeles, Miami, New York City |
| 5 | Germany | Berlin, Düsseldorf, Frankfurt, Munich |
| 6 | France | Marseille, Nice, Paris, Toulouse |
| 7 | Brazil | Rio de Janeiro, São Paulo |
| 8 | Russia | Moscow, Saint Petersburg |
| 9 | Croatia | Dubrovnik, Split |
| 10 | Algeria | Algiers, Oran |
| 11 | Argentina | Buenos Aires |
| 12 | Mexico | Mexico City |
| 13 | Denmark | Copenhagen |
| 14 | Morocco | Casablanca |
| 15 | Montenegro | Podgorica |
| 16 | Netherlands | Amsterdam |
| 17 | Romania | Bucharest |
| 18 | United Arab Emirates | Abu Dhabi |
| 19 | Belgium | Brussels |
| 20 | Chile | Santiago |
| 21 | Hungary | Budapest |
| 22 | Israel | Tel Aviv |
| 23 | Serbia | Belgrade |
| 24 | Canada | Toronto |
| 25 | China | Beijing |
| 26 | Cyprus | Larnaca |
| 27 | Albania | Tirana |
| 28 | Cuba | Havana |
| 29 | Czech Republic | Prague |
| 30 | Iran | Tehran |
| 31 | Lebanon | Beirut |
| 32 | Macedonia | Skopje |
| 33 | Poland | Warsaw |
| 34 | Switzerland | Geneva |
| 35 | Switzerland | Zürich |
| 36 | United Kingdom | London |
| 37 | Bulgaria | Sofia |
| 38 | Egypt | Cairo |
| 39 | India | Delhi |
| 40 | Japan | Tokyo |
| 41 | Jordan | Amman |
| 42 | Malta | Malta |
| 43 | South Korea | Seoul |
| 44 | Tunisia | Tunis |
| 45 | Ukraine | Kiev |
Alitalia Airlines Services and Awards
Alitalia airline offers different kind of services for their flight passengers which includes:
Classica: Classica is basically for the economy class, and passengers in the short or medium haul flights are served drinks and a light meal, while in the long haul the passengers receive free meal and space for personal entertainment.
Classica Plus: Classica plus is for the premium economy passengers who travel in the long haul flights. With similar benefits as Classica but with few additions like extra legging space, higher baggage allowance, etc.
Ottima: This is for the short and medium haul business class, which gives access to more baggage allowance and really good food along with access to VIP lounges.
Magnifica: This is for the long haul business class who get the best catering services with all kinds of amenity kits, chinaware, cushions, etc.
MilleMiglia: It is a frequent flyer program of Alitalia Airlines which allows the passenger to collect and redeem points with any of the Skyteam members.
Alitalia airline has won "Best Airline for National Flights" award at 2016 Italia Travel Awards voted by Travel agents. Also the airline included in the top ten list of World Airline Awards for both "Best Airlines in Southern Europe" and "World's Most Improved Airlines".
Alitalia Airlines Reviews & Statistics
SkyTrax, which rates airlines based upon their performance and customer services have rated Alitalia Airlines 5 out of 10 stars reviewed by more than 500 customers till October 2017. SkyTrax has given Alitalia 3 stars out of 5 for Food & Beverages, Seat Comfort, Staff Service, and Value for Money; for Inflight Entertainment it's been rated 2 stars out 5.
According to FlightStats, some of the Alitalia flights has very poor rating for being on schedule. Alitalia's flight AZ 628 from Rome to Chicago has an average of 13% lateness while 16% of time flight were excessively delayed and 57% being on-time. The statistics of Alitalia flight is of the period from 1st Aug 2017 to 30th September 2017 and is taken from FlightStats.com.
Alitalia Flight Delays / Cancellation / Denied Boarding Problems
Most of Alitalia airline passengers had worst experiences with Alitalia flight services. One of the post of Daily Mail news says that Alitalia flight from Beirut to Rome was delayed for 16 hours because pilot refused to fly as he was too tired.So if you had travelled with Alitalia airline and your flight has been delayed for more than 3 hours or your flight gets cancelled without any notice of 2 weeks or denied boarding due to oversold flight tickets or for any other problem which is under the airlines control, then you can claim compensation up to €600 ($720) from Alitalia airline in accordance with EC Regulation 261/2004.
If your flight delay is of less than 3 hours, you are not entitled to claim compensation, however still you have right that is "right to care" to ask for 2 phone calls, fax, emails or messages. If the delay means you have to stay at the airport overnight, then airline is responsible for providing you with hotel accommodation and transfer facility between the airport and place of accommodation.
EC Regulation 261/2004 – Alitalia Air Passenger Rights
EC Regulation 261/2004 (dated 17 February 2005) applies to air passengers departing from any EU airport, or from a non-EU airport with an EU airline to an EU destination. Passengers must note that flight compensation is subject to certain conditions and exceptions. There will be no compensation for a delay / cancellation caused by an extraordinary circumstance, under which such delay / cancellation becomes uncontrollable. An example of such situations includes bad weather or security concerns such as fear of a terror attack. In such situations, passengers will not be given any compensation.
Nevertheless, if there is a delay of more than 4 hours for a flight of 3500 km or more; delay of 3 hours or more in intra-community flight of 1500 km or more; and delay of 3 hours in case of flight under 1500 km, the passenger is entitled to claim compensation under EU norms as set by the Regulation. This entitlement is when the delay is not caused by extraordinary circumstances.
If you travelled with Alitalia airlines and your flight was delayed or cancelled without any prior notice or for reasons which could have been easily avoided by the airline, then according to Regulation (EC) No. 261/2004, you can claim compensation up to €600. This takes into account distance of travel and the delay duration which should be more than 3 hours.
Within EU:
If you travel up to 1,500 km or less, then you can claim up to 250€
And over 1,500 km, you can claim up to 400€
Between EU Airport And Non-EU Airport:
If you travel up to 1,500 km or less, then you can claim up to 250€
If the distance is between 1,500 – 3,500 km, then you can claim up to 400€
And if the distance is more than 3500 km and flight delays for more than 4 hours, then you can claim up to 600€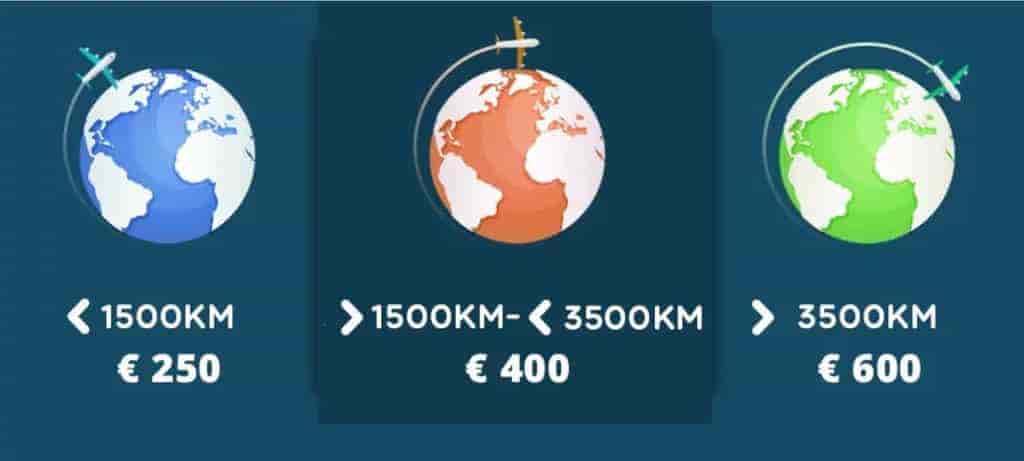 Note:If you are travelling to a Non-European country from a Non-European country by a European Flight, EU 261 Rule won't apply to you. It is only applied in the case of EU based flights travelling within Europe or to or from an EU Member State.
Am I Eligible To Claim Compensation?
EC Regulation 261/2004 is a European Union Regulation, it applies to EU and Non-EU airspace. You do not have to be an EU citizen to claim flight compensation.
This means that you can claim on flights departing from any airport located in the EU (with any airline) or arriving in the EU (with an EU airline).
Thus you are eligible to claim compensation for flights departed or which were scheduled to depart from an EU airport.
| Origin and Destination | EU Airline | Non-EU Airline |
| --- | --- | --- |
| From Inside EU to Outside EU | Yes | Yes |
| From Inside EU to Inside EU | Yes | Yes |
| From Outside EU to Inside EU | Yes | No |
| From Outside EU to Outside EU | No | No |
Claim Flights – Flight Compensation Firm (How We Can Help You To Claim Your Money Back)
Claim Flights is most trusted claim company and have very efficient claim expert's team who makes your claim case successful and pays the compensation amount received from the airline within right time. All you have to do is provide us with your Alitalia airlines flight details (Alitalia flight number & flight date) and enter the reason of delay or cancellation or denied boarding.
Our claim experts will incorporate with various other team to collect data so that everything goes smoothly. Our team has access to flight information such as the time by which the flight was delayed, the reason for flight delay or cancellation, flights scheduled departure and arrival time, etc. making us more likely to win the claim.
So if you have any complaints regarding Alitalia airlines flight delays or cancellations you can contact us at any time and for lost or delay baggage or luggage related claims you can visit Alitalia airline for more details. Don't delay and claim for your flight compensation today. We also facilitate free flight delay compensation letter template to claim yourself; free flight compensation calculator which you can use to know the amount Alitalia Airlines owes for you.
How to Claim Flight Delay Compensation?
Claim Flights claiming process is very easy to use and to provide us the desired information doesn't take more than 2 minutes of your precious time.
We have access to a lot of information about different airlines flights, thus you receive the compensation within right time.
Claim Yourself Delayed Flight Compensation
If your flight was delayed for more than 3 hours or if your flight has been cancelled without prior notice of 2 weeks or if you were denied boarding due to overbooking of flight tickets, you can use our free claim letter template to write the letter to airline to claim compensation for your delayed, cancelled or overbooked flight in accordance with EU Regulation 261/2004. EC Regulation 261/2004 entitles European Union air passengers to claim up to €600 compensation for flight delay of 3 hours or more, flight cancellations or for denied boarding.
Calculate The Amount Airlines Owes You
Passengers are often unaware of the regulation on flight delays and end up claiming a very futile amount compared to what they are entitled to claim. At Claim Flights the fair compensation can be calculated with the help of the compensation calculator.
Flight Delay Compensation Calculator can help you to calculate the amount to claim from Alitalia Airlines for your delayed / cancelled flight. You can check for free the amount Alitalia Airlines owe for you with our flight delay compensation calculator.
You can claim compensation with our assistance by filling the claim form. You may need to enter further details about yourself & co-passengers for whom you would like to claim the flight compensation from the Alitalia Airline.
Our claim expert team can file the claim on behalf of you and pursue it with the airlines. Air passengers are charged only in case he/they gets the compensation from the airline. You can compare the claimable compensation amount provided by us against other claim companies. Claim Flights takes up your case on a no win no fee basis and makes sure that you get right amount in time.
Choose Your Choice To Claim
Fee from $30 to $585 + hearing fee of $30 to $430
Risk of losing money if lose case
Some hours of your time is spent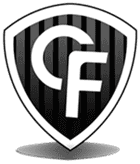 Additional databases and legal evidence
No cost risk, only pay if we win
Just 2 minutes of your time spent
Experts with high success rate
Outcome unclear, most airlines ignore customer claims
Case might end up in court anyhow


We help in many languages - ClaimFlights International Websites