What Are Extraordinary Circumstances in Flight Delays?
Have you ever been on a flight that was delayed or canceled due to extraordinary circumstances? If so, you may think that this makes your claim for flight compensation null and void. But the truth is, you may still be eligible for a refund from the airline!
The EU 261 rule requires airlines to compensate passengers for reasonable delays, but there are some delays that are considered "extraordinary" and don't qualify for financial reimbursement. When this happens, airlines are allowed to deny compensation.
So what constitutes an extraordinary circumstance? Are there any instances in which passengers can make a successful claim even if they've experienced a delay due to extraordinary circumstances? In this article, we'll answer these questions and more as we explore what counts as extraordinary circumstances in flight delays.
What Are Extraordinary Circumstances?
When it comes to flight delays, it can be difficult to know if you're eligible to claim compensation. That's because EU Flight Delay Compensation rules allow airlines to avoid paying compensation for "extraordinary circumstances". So, what does this term actually mean?
In a nutshell, extraordinary circumstances are events outside of the airline's control that can impact on its ability to run a flight on time or at all. This includes:
Unusual weather conditions that make it unsafe for a flight to operate and could not have been predicted before the flight departed;
Political unrest in the destination country which is not related to the airline;
Unexpected technical problems with the aircraft that could not have been detected before departure;
Airport staff strike action in the destination country which is not connected with the airline.
If any of these extraordinary circumstances occur and were genuinely out of your airline's hands, then you may not be able to make a claim for compensation regardless of how long your flight was delayed.
What Isn't Covered Under Extraordinary Circumstances?
When it comes to extraordinary circumstances, the general rule is that anything considered 'not under control' of the airline then you won't be eligible to be claimed against. Obviously, weather-related delays (outside of pilot error) and air traffic control delays can be added to this list, but what isn't covered?
The EU states very clearly that any extraordinary circumstances must be unpredictable and outside of the airline's control. That means they won't cover situations like:
Mechanical failure caused by insufficient maintenance or lack of routine checks
Strikes by airline staff
Late arrivals or departures of connecting flights due to an airline error
Flight canceled due to an airline not properly managing their flight schedule
Overbooking flights despite having an accurate count of those who booked.
In short, any circumstance caused by something which was in the power of the airline (or a third-party contractor working on their behalf) cannot be claimed for extraordinary circumstances. If there's a chance that an issue could have been prevented by better planning and organization from your chosen carrier, it likely won't qualify.
Examples of Extraordinary Circumstances for Flight Delays
So what qualifies as an extraordinary circumstance? According to the EU 261, extraordinary circumstances are considered events outside of the airline's control. That means that if the delay was due to something within the airline's control, then you have a valid compensation claim.
But what exactly are these extraordinary circumstances? Here are some examples that may apply to your delayed flight:
Acts of Terrorism or Sabotage
This is an obvious one. If there was an attempted or actual act of terrorism or sabotage, then it might be considered an extraordinary circumstance by the airline and thus exempt from the compensation rules.
Security Risks
Any kind of security risk—like a bomb threat that needs to be investigated—can qualify as an extraordinary circumstance that would result in a flight delay and thus not eligible for EU 261 compensation.
Political Instability
Similar to terrorism, political instability can also be classed as extraordinary circumstances – like war or civil unrest in another country – which could have prevented you from arriving at your destination on time.
Natural Disasters
In cases where natural disasters like extreme weather conditions obstruct your journey, this can also be classed as an extraordinary circumstance by airlines.
It's important to note that just because airlines say something is outside their control doesn't mean it actually is, so don't take their word for it!
Contact ClaimFlights today and our experts will assess your claim for free and let you know if you're entitled to compensation based on the EU 261 rule due to any extraordinary circumstances related to your flight disruption.
How to Know if Your Flight Delay Qualifies for Compensation?
When it comes to getting EU flight delay compensation for your delayed flight, you might be wondering how to know if your case is eligible for compensation.
After all, some cases are exempt from regulation. The answer lies in the concept of "extraordinary circumstances". These are situations that are unexpected and outside of an airline's control, so the institution is not liable for the delay.
In some cases, these extraordinary circumstances may include things like:
Bad weather conditions such as storms, hurricanes, or volcanic ashes
Operational issues such as security risks or air traffic control restrictions
Unannounced labor strikes including airport workers and aviation personnel
Technical failures due to unexpected machinery issues
Government regulations causing sudden changes in routes and airports
Emergency landings due to gravity or health threats
These events can happen at any time and are out of the control of airlines. So if one of these extraordinary circumstances was the cause of your flight being delayed more than 3 hours, then you won't be eligible for compensation under EU Regulation 261/2004.
What to Do if Your Flight Delay Qualifies for Compensation?
If your flight delay qualifies for compensation, then you have the right to file a claim and get compensated accordingly. The amount of money you can receive depends on the rules of the country you're flying from and your flight route.
In general, EU regulations provide up to 600 euros per passenger if their flight has been delayed by 3+ hours. But that's only true if the delay is not due to extraordinary circumstances. So what are extraordinary circumstances?
Extraordinary Circumstances Defined
According to the EU 261 ruling, there are certain circumstances that may exempt an airline from paying compensation for a delayed or canceled flight. These include:
Bad weather conditions, including snowstorms or severe thunderstorms
Air traffic control restrictions
Security risks due to political instability or terrorism
Unexpected aircraft technical issues (e.g., mechanical faults)
Bird strikes that cause significant damage
Issues with airport personnel or third parties (e.g., refueling services)
Airport operations disruptions (e.g., closure for maintenance work)
In these cases where extraordinary circumstances apply, there will be no claimable compensation under EU 261 rules and regulations. However, there may be other compensation options available depending on your particular situation be sure to keep in touch with ClaimFlights regarding any further details!
How ClaimFlights Can Help With Your Flight Delay Compensation Claim?
No one likes airline delays, but sometimes they are unavoidable. That's why it's good to know that under the EU 261 rule, you can be entitled to claim compensation if your flight delays exceed a certain number of hours. But what if you miss the compensation window due to extraordinary circumstances? Who can help you?
That's where ClaimFlights come in! with No Win No Fee Service. We specialize in guiding travelers through the process of claiming for delayed flights, and our team is trained to understand when extraordinary circumstances may have caused a delay in filing your claim. We'll assess whether your flight delay meets the criteria and then provide advice on how best to proceed with a claim.
Plus, we've successfully claimed millions of euros from airlines on behalf of our customers which means you have a great chance of increasing your chances of getting the compensation you deserve!
If you had an airline delay lasting more than 3 hours and the cause was not related to extraordinary circumstances, don't hesitate: to contact ClaimFlights today so we can start working on your flight delay compensation claim.
How Much Compensation for a Delayed Flight?
Flight delay compensation amounts vary between 250 Euros to 600 Euros. It depends on the route distance and the length of the delay.
Here's the table below to understand "how much compensation you may get for a delayed flight"
| Recievable Amount | Route Distance | Length of Delay |
| --- | --- | --- |
| 250€ | less than 1500 km | 3+ hours |
| 400€ | between 1500 to 3500 km | 3+ hours |
| 600€ | more than 3500 km | 4+ hours * |
* When EU borders are not crossed, the amount may get reduced by 50%, i.e., you can get up to 300€ for a distance of over 3500 km.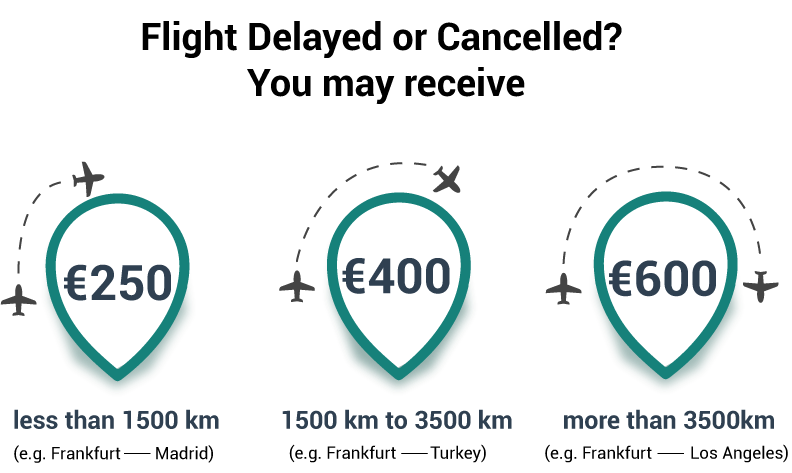 Which is the best company to claim flight delay compensation?
ClaimFlights is the best flight delay claim company when it comes to the payout after their 25% service fee. Through ClaimFlights, you could get 75% of the receivable compensation.
The following table gives you a direct comparison of flight delay compensation claim companies.
Your payout* (as Flight Delay Compensation)

for less than 1500 km
for 1501 to 3500 km
for more than 3500 km
ClaimFlights
187.50 €
300 €
450 €
Flightright
125.75 €
201.20 €
301.80 €
AirHelp
125 €
200 €
300 €
ClaimCompass
125 €
200 €
300 €
SkyRefund
125 €
200 €
300 €
* Source: Price comparison of flight delay claim companies, as of 27th May 2021.
Conclusion
To sum up, extraordinary circumstances, as defined by EU flight delay regulations, are distressing events that are not under the control of your airline and occur during a flight. However, this doesn't mean you can't get your compensation if you've been affected by extraordinary circumstances. If you've been stranded due to a flight delay, it is worth checking to see if you are eligible for flight delay compensation.
Ultimately, it can be difficult to find out if you can claim for extraordinary circumstances or not. That's why ClaimFlights, the experts in flight delay compensation, are here to help. We can assess your situation and help you determine if you are eligible to make a claim for compensation following an EU flight delay due to extraordinary circumstances.
When Technical Glitches Ground Your Plans: Flight Delays Explained Flight delays can be incredibly frustrating, especially when they disrupt carefully planned itineraries and cause inconvenience to travelers. While various reasons can...
Was your flight delayed? You may be eligible for compensation
Has your flight been delayed for more than 3 hours or even canceled? Don't worry, you may be eligible for compensation up to 600€ under the EU Regulation 261/2004.
Check if You're Eligible
We offer "No Win - No Fee" Services, so claiming is Risk-Free!
What is flight delay compensation under EC Regulation 261/2004?
Flight delay compensation under EC Regulation 261/2004 is the compensation that air passengers are entitled to receive when their flight is delayed for a certain amount of time, depending on the distance of the flight and the duration of the delay.
What are the conditions for receiving flight delay compensation?
The conditions for receiving flight delay compensation under EC Regulation 261/2004 are that the flight must be departing from an EU airport or arriving at an EU airport on an EU airline, the delay must be over 3 hours, and the delay must not be due to extraordinary circumstances.
What are considered extraordinary circumstances under EU law?
Extraordinary circumstances under EC Regulation 261/2004 include situations such as severe weather conditions, security risks, political instability, and strikes that affect the operation of the airline.
Can airlines refuse to pay compensation under EC Regulation 261?
Airlines can refuse to pay flight delay compensation under EC Regulation 261/2004 if the delay is due to extraordinary circumstances. However, they are required to provide care and assistance to passengers in such situations.
How can air passengers claim compensation for delayed flights?
Air passengers can claim compensation for a delayed flight under EC Regulation 261/2004 by submitting a claim to the airline either directly or through a third-party service provider such as ClaimFlights. The claim should include details of the flight, the reason for the delay, and any expenses incurred by the passenger as a result of the delay.
We help in many languages - ClaimFlights International Websites