Discover the best carry-on luggage and its features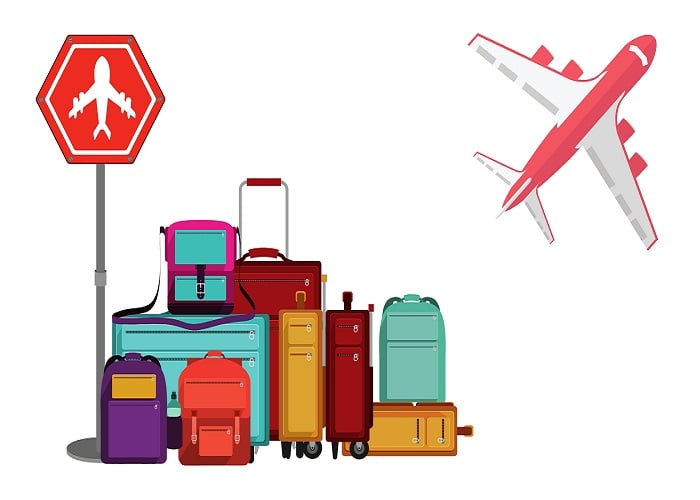 The world belongs to the people who make intelligent decisions in every part of their lives. Something as easy as traveling can become very complicated if you don't know some tricks to simplify the parts that do not always depend on you: flights and airports. Within this topic, we will show you which are the best objects and accessories that you can carry with you in your carry-on bag.
First things first: Why choosing carry-on luggage?
Easy: we want to have all our stuff with us when traveling, and carry-on luggage is a compact way to make it happen.
A second reason, although also important, is that if you have to make a trip with scales, you can have your essential and valuable items with you.
In summary, having carry-on luggage benefits you because: it's comfortable, safe, light, simple, and saves you money.
Materials: Soft, Ultra-light, or Resistant
Lightweight carry-on luggage materials are always an advantage: not only for comfort at the time of rush at the airport but the moment you arrive at your destination, everything is also simplified.
If your luggage has very lightweight, you will be able to put more personal items. Do not make the mistake of many travelers who buy nice but heavy bags, which weigh half of what the airline allows as hand luggage.
Less often is more
Carry-on bags create solutions for frequent travelers. People these days want to occupy less space in every type of travel carry-on bag. Right here you can see specific accessories that you should look for in your new carry-on luggage:
External pockets: you can decide to buy your carry-on with a lot of external pockets. So, if you want to look for something quickly before traveling or in the landing of your airplane it is completely possible to do.
Packing cubes: it is not a characteristic of carry-on luggage but you can see for it. It is about organized your things inside your luggage.
Clamshell: it is a modern structure of carry-on. You can buy your bag with these to separate clothes from shoes.
Accessories making the difference
1. Wheels
The future is about wheels. You can see many models of carry-on luggage with different types of accessories. The most important is soft movement. For classics, people are more common to see travel bags with just two wheels, but for whose want to innovate, 4 spinner wheels are a tendency. In this case, you will find many advantages like:
Fast movement: speed is increased for the 4 wheels.
Confidence: For a traveler, their equipment is all. You can put it in front of you because of the multidirectional ability.
Smooth unfolding: Also, you are going to walk without high weight. This is one of the most interesting winnings of buying this type of carry-on.
2. Composition
Travelers prefer inner depth to organize their belongings better. Also, this would allow you to put your clothes on the soft side, or if you prefer, also the shoes (it depends on you).
If you prefer to carry back bags as a carry-on bag, a great tip is to make sure they have compression straps and external pockets so you can store in these the documents that you will need to have on hand at the airport.
Smart Carry-on luggage
You might be wondering, how can a suitcase be smart? What features does smart luggage have?
This is perhaps one of the most innovative functions for travelers. Smart luggage incorporates, mostly, a battery system (to charge your cell phone and other electronic devices you have), GPS (which is very useful for lost or stolen bags), as well as automatically measure the weight of your suitcase so you don't get overcharged at the airport. Some even, include engines.
With all this progress there are also some points against it, and that is that some airports don't allow these smart suitcases because they use lithium-ion batteries (and this could have fire risks). The good news is that these batteries are removable and you can remove them before boarding.
Eco-friendly Carry-on Luggage
Tourism is usually the opposite of ecological, especially if you choose destinations as popular as cosmopolitan cities. Today there are ways to do eco-tourism (visit sites with little interference from man and without pollution) or ways that the things you take with you to the trip are eco-friendly (bags and all kinds of recycled objects).
But did you know that suitcases can also be eco-friendly?
These products are eco-friendly because of the materials: some suitcases are made of recycled postindustrial ABS plastic, or PET plastic bottles recycled 100% post-consumption, cork, and other non-biodegradable harmful materials that have been reused to give a new opportunity to the environment.
So, if you want to travel as an expert and at the same time contribute to nature, we suggest you buy one of these suitcases. If you have no idea where to start when you want to acquire yours, we recommend the following models:
Timbuk2 Copilot Luggage Roller bag
Patagonia Black Hole® MLC
Heys Eco Orbis
Samsonite Spark SNG ECO collection
Recommended brands for a carry-on suitcase
Before traveling, you want to buy a good suitcase for your trip, and among so many options, you don't know which one to decide on? There are currently three excellent brands that we recommend: Samsonite, Amazon Basics, and Travelpro. They are international brands of high quality and with a guarantee.
Here we will summarize different pieces of luggage brands, and when you compare prices on Amazon, you will know which one to choose.
1. Samsonite Near Cabin model: Rigid Cover
Special luggage for business travelers. His design in black will give you an elegant presence in every airport, hotel, or reunion you are in. It's made in polycarbonate, which is an excellent material for tough equipment, and it comes with 8 wheels for faster movement. It comes with retractable and ergonomic boxes, plus crossed elastic bands to secure your clothes. The best? Its appearance is exquisite and the price very affordable.
2. Samsonite Curio Cabin model: Rigid Cover
Another model that you can use from the Samsonite line is the Curio Cabin model, in its rigid version. This design is made for extroverted people who like adventure, and if you enter within this description, then this Carry-on is for you.
It has a stylized design and comes with crossed elastic bands & a good compression system to secure your clothes and belongings. It is made of polycarbonate and has a system of 8 multidirectional wheels. It has a padlock according to the Transport Security Administration rule and has a double telescoping handle to ensure better transportation.
3. Samsonite Sunside Cabin model: Rigid Cover
If you are looking for a simple model not so flashy but stylized and very comfortable at the same time, then you have to check this model. This Carry-on is designed from Polypropylene, and it has a micro-diamond finish and has a special eight-wheel system. Inside it is separated into two areas and has two pockets to take better advantage of the space, and has the classic elastic band to keep your clothes in place.
4. Samsonite Octolite: Rigid Cover
If you consider yourself a modern and extroverted person, then this line of Samsonite may fit your tastes. It stands out for its geometric and futuristic design. You will not have to worry about your weight because it is very light, it has an 8-wheel system and can expand up to 3 times. Besides, it has an address system that allows you to adjust to different addresses quickly. Finally, the inside has a divider panel with closure, two pockets, and an elastic crossed ribbon for safety.
5. Samsonite Saxoline Cabin model: Semi-Rigid
This model is designed for people who only like to travel with the necessary and want a light suitcase not to add too much weight. This carry-on has a squeeze design and comes with a padlock according to TSA regulations. It has a double tube system carriage and is one of the cheapest models of Samsonite.
6. Samsonite Ecolite Cabin model: Semi-Rigid
If you like to travel and take care of the environment simultaneously, Samsonite has an eco-friendly model that fits your needs. This model is created from recycled plastic bottles, has a system of 8 multidirectional wheels, crossed ribbons to keep your belongings safe, and the main closure on the top of the carry-on.
7. TravelPro Platinum Elite 21: Semi-Rigid
Travelpro is another brand that stands out for its versatile models. One of the most interesting models is the Platinum Elite 21 model. This model comes with details in leather and chrome zippered pockets. It also has a USB charger for your phone or any other device. All models have manufacturing details to ensure the best possible quality, plus they offer a lifetime warranty on some of their products.
8. Amazon Basics (AB): Reyleo
Amazon Basics offers different models. One of them is The Reyleo. This model comes with a USB charger included and many other features. Maybe it is not one of the most classic brands. However, they have positioned themselves very well due to their quality and variety.
Amazon's approach is to give you a product that allows you to connect with the world and help you carry your personal things simultaneously. AB not only offers common carry-ons, but they also have a line of soft bags, which can help improve your trip. One of the main advantages of this brand is its price, common with all AB products.
Rules about the International carry-on luggage
The rules on carry-on luggage size are those that you should always consider in the first instance, especially because these vary according to each airline. For example, Air France allows only 12kgs and size of 55x35x25 cm. The international main rule is allowed 22'x14'x9 'inches.
It's important to check the luggage size when buying a new one. If you want to make a good investment, it is good to choose a maximum size of 21 'inches.
The Transportation Security Administration website has specific information that you can search at any time you need it. One of the most important aspects that we can mention that you can carry in your hand luggage food; however, you must be subjected to X-rays.
In the case of liquids, there are more restrictions. You can take them, and only they must contain 3.4 ounces or 100 milliliters. And with liquids, we refer from: water to shampoo, sprays, perfumes, and others.
In conclusion…
It's clear that traveling isn't so expensive, but it can be not very easy if you don't know how to organize yourself. To solve this possible inconvenience, the first thing you have to do is to know where and how to save your personal belongings, especially your carry-on baggage, which can be uncomfortable and problematic at times.
We recommend that your carry-on luggage: not be too heavy (to maneuver it better), meet the carry-on size and weight requirements determined by your airline, and not contain liquids that exceed 100 milliliters.
Whether you are looking for eco-friendly brands or models or not, for both preferences, we suggest that you look for Samsonite, which may not be the best or most affordable, but the one that averages price and quality. Once you know what features you want for your luggage, you can search Amazon better for other options that suit your preferences and needs.
Perhaps the most important feature you can look for in your next suitcase is to be smart: this will save you time, it will let you know where your luggage is 24/7 (you can check it from your cell phone), and instead of being a burden, and your luggage will be your partner in every new adventure.
If your flight delays for more than 3 hours, or was canceled, you may be eligible for compensation up to €600 based on EU 261 rule.
Check For Free
We offer "No Win - No Fee" Services, so claiming is Risk-Free!
When Technical Glitches Ground Your Plans: Flight Delays Explained Flight delays can be incredibly frustrating, especially when they disrupt carefully planned itineraries and cause inconvenience to travelers. While various reasons can...
We help in many languages - ClaimFlights International Websites