Flight Delays: When You Can Claim Refund or Compensation
Don't let flight delays ruin your trip. Find out if you are eligible for refunds or compensation if your flight has been excessively delayed.
You've been there. The airport has already closed, and your flight has been delayed. Or worse: it's been canceled entirely. You're frustrated, but you can't complain to the airlines—they won't do anything for you, and you have to reach your final destination on time. Don't lose hope! There's another way.
Thanks to EU 261, a rule that regulates air passenger rights, you may be eligible for compensation or even a full refund on your flight depending on how long it was delayed and the reason why it was delayed. Even better—you don't have to handle all of this yourself!
Though the process can seem overwhelming at first glance, ClaimFlights is here to make sure that you get what you deserve without having to go through the headache. Let's dive into all the details about claiming compensation when flights are delayed so that if it ever happens to you again—you'll be prepared!
What to Do When Your Flight Is Delayed
No one likes to hear that their flight is delayed, especially when it means you're going to miss your connecting flight or arrive at your destination late. It's important to know that there are a few things you can do if your flight is delayed—aside from just sitting patiently in the airport and waiting.
When your flight is delayed, the first thing you should do is check with the airline desk. The staff at the desk can help you figure out if the delay has been caused by something out of their control, such as bad weather, or whether it's because of a mechanical failure in the plane. If it's something out of their control, they might be able to arrange alternative transportation for you or put you on another flight.
If the delay can not be undelayed by another means, many airlines have regulations that allow passengers to claim refunds or compensation for lost time and money due to delays. So if the airline has been unable to make arrangements for you, make sure you ask about what kind of compensation they offer before giving up hope completely!
How Long Can a Flight Be Delayed Before a Refund or Compensation Is Due?
So, you're stuck at the airport because your flight was delayed—what now? Generally speaking, if a flight is delayed more than three hours, you may be eligible for either a refund or compensation depending on the airline's policy.
The amount of compensation you are entitled to will depend on the length of the delay and the distance traveled. Every airline has different rules and regulations when it comes to this situation so make sure to check with your chosen airline beforehand. If your flight has been delayed for more than 5 hours, you have a right to terminate your trip and ask for a full refund.
Furthermore, if you have missed an onward connection due to the flight delay, most airlines will provide some form of compensation in order to help make up for their mistake. In cases like these, it is highly recommended that you speak with customer service directly in order to best understand what rights and options are available to you.
If a Flight is Delayed, Can it be Undelayed?
Unfortunately, once a flight has been delayed, it's nearly impossible to catch up. You see, when a sudden delay happens because of weather or mechanical failure, air traffic control will slow down the speed of aircrafts in order to maintain equal spacing between planes. This means that if your flight is delayed your airplane will stay in the same position until the controllers give you the order to fly, and this could take quite some time.
The only way to "undelay" a flight is if it's running late because of an extended boarding process or refueling, which can be done quickly. The airline can also call for a substitute plane if needed in case of certain technical issues.
In any case, it's best to contact the airline for assistance in such situations and inquire about possible solutions for getting you on time at your final destination. And don't forget: if you experienced an extraordinary delay due to something that was out of your and the airline's control, you may be eligible for financial compensation according to EU 261 Rule. So don't think twice about asking for what's rightfully yours from ClaimFlights!
Who Is Eligible for Flight Delay Compensation?
Are you eligible for flight delay compensation if your flight was delayed? The short answer is, it depends.
To be eligible for flight delay compensation, your flight must meet the following criteria:
Your flight must have departed from any airport situated within the EU or arrived to an EU airport on a non-EU airline and been delayed by at least three hours or more;
You must have checked-in at least 2 hours before the originally scheduled departure time; or
You were denied boarding due to overbooking.
If all of these criteria are met, you are eligible to receive compensation of up to €600 per passenger under EU Regulation 261/2004. It's also important to note that the airline responsible for your flight must be based in either the EU or an airline operating from an EU country—which means that non-EU airlines are not allowed to take advantage of this regulation.
So if you find yourself stranded at the airport due to a delayed flight, there's a good chance you may be eligible to receive compensation under EU Regulation 261/2004—but make sure that all conditions are met first. With ClaimFlights on your side, you won't have any trouble claiming your rightful compensation!
Claims Process and Timeline for Delayed Flights
It's understandable if you're wondering what the claims process is and how long it could take before you get compensation for your delayed flight.
The process isn't as complicated as it may seem, but it can still be a bit of a hassle.
First Steps
The first step is to find out if your flight delay was the airline's fault or caused by 'extraordinary circumstances' that they couldn't control. If the flight delay isn't the airline's fault, then unfortunately you can't make a claim for compensation.
Timeframe for Your Claim
If the flight delay was their fault, then you'll have to contact them for information on how to proceed with making a claim for compensation—and typically this part takes between 4-6 weeks. This varies based on whether the airline has rejected your claim or not.
Once that's done, you'll want to contact ClaimFlights to help you file your claim in court—this step generally takes between 6-9 months, depending on how complicated the case is and any other delays that may occur in court proceedings. You can also use ClaimFlights' online calculator to see if you are eligible for claiming due compensation by entering basic details about your flight journey.
At ClaimFlights, our team of experienced professionals works hard every day to ensure that air passengers receive the maximum financial recovery they deserve under EU flights compensation law 261/2004 in case of unjustified flight delays or cancelations.
ClaimFlights – Getting You the Right Amount of Reimbursement
Have you been delayed? If a flight is delayed, it's unlikely that it can be 'undelayed' (unless the airline has booked a new flight for you). The most you can expect to receive is some form of refund or compensation.
This is where ClaimFlights comes in. We get air passengers the right amount of reimbursement they are entitled to if their flight was delayed and they were kept stranded at the airport.
We have helped thousands of people already, and we can advise travelers on whether their flight qualifies for refund or compensation, who should pay them (the airline or a third-party booking website) as well as how much money they should receive. We even handle all the paperwork for our customers so that all they have to worry about is packing their bags and getting onboard!
We make sure that our customers understand what the EU 261 rule states and how it applies to them. Our experts then help them file claims with airlines using this regulation and help them secure the maximum amount of compensation for their disrupted flights.
With ClaimFlights, getting refund or compensation for your delayed flights has never been easier – just fill out our form and we'll take care of everything else!
How Much Compensation for a Delayed Flight?
Flight delay compensation amounts vary between 250 Euros to 600 Euros. It depends on the route distance and the length of the delay.
Here's the table below to understand "how much compensation you may get for a delayed flight"
| Recievable Amount | Route Distance | Length of Delay |
| --- | --- | --- |
| 250€ | less than 1500 km | 3+ hours |
| 400€ | between 1500 to 3500 km | 3+ hours |
| 600€ | more than 3500 km | 4+ hours * |
* When EU borders are not crossed, the amount may get reduced by 50%, i.e., you can get up to 300€ for a distance of over 3500 km.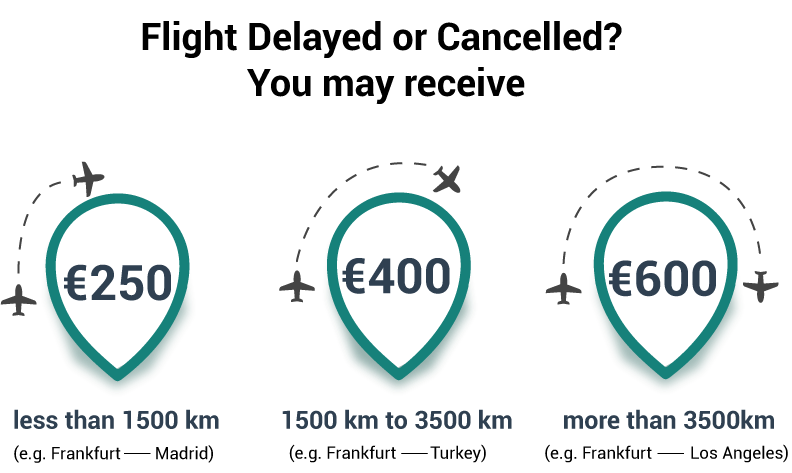 Was your flight delayed? You may be eligible for compensation
Has your flight been delayed for more than 3 hours or even canceled? Don't worry, you may be eligible for compensation up to 600€ under the EU Regulation 261/2004.
Check if You're Eligible
We offer "No Win - No Fee" Services, so claiming is Risk-Free!
Which is the best company to claim flight delay compensation?
ClaimFlights is the best flight delay claim company when it comes to the payout after their 25% service fee. Through ClaimFlights, you could get 75% of the receivable compensation.
The following table gives you a direct comparison of flight delay compensation claim companies.
Your payout* (as Flight Delay Compensation)

for less than 1500 km
for 1501 to 3500 km
for more than 3500 km
ClaimFlights
187.50 €
300 €
450 €
Flightright
125.75 €
201.20 €
301.80 €
AirHelp
125 €
200 €
300 €
ClaimCompass
125 €
200 €
300 €
SkyRefund
125 €
200 €
300 €
* Source: Price comparison of flight delay claim companies, as of 27th May 2021.
Conclusion
When you're stuck at the airport due to a flight delay or cancelation, it can be incredibly stressful and disheartening. But you should never give up on your rights as an air passenger to receive compensation for such delays or cancelations, or a refund if the flight is undelayable.
It pays to use a reliable and efficient flight compensation service like ClaimFlights to ensure that you get the reimbursement you deserve for the inconvenience caused. With our help, you can get the flight delay or cancelation compensation you are entitled to in the shortest amount of time, so that you can move on with your travel plans with peace of mind.
When Technical Glitches Ground Your Plans: Flight Delays Explained Flight delays can be incredibly frustrating, especially when they disrupt carefully planned itineraries and cause inconvenience to travelers. While various reasons can...
We help in many languages - ClaimFlights International Websites