Take-Off Troubles: Uncovering the Truth about Flight Delay Compensation
When you find yourself in a dreaded situation like a delayed flight, which can disrupt your entire travel plans or can cause you to miss an important event. It's important to know your rights and how you can be compensated.
Modern travelers commonly find flight delays frustrating. But there's one thing they do not research before heading out to the airport:
According to Eurocontrol there has been a total of 22.8 minutes of delay per flight in 2023. Every additional minute spent circling the airport adds to passengers frustration and raises their blood pressure.
Here's the thing: Apart from all the stress, there's an additional upside to flight delays that no one talks about, and it should be known by everyone: you could be entitled to compensation for a delayed flight.
It's true, but it's also a very complicated process.
This article aims to demystify the world of claiming flight delay compensation, providing insights into eligibility criteria and a step-by-step guide to speedily securing your compensation.
A brief overview of EU law regarding flight delays
Your Rights When a Flight is Delayed
Did you know that airlines must provide compensation for flight delays and cancellations?
That's right, your rights as an air passenger extend to getting some degree of compensation when your flight is delayed or canceled.
The compensation you can receive depends on the route distance and the time by which the flight is delayed.
Here's what you should know:
For more than 2 hours flight delays, you may have the right to free food and beverages.
For delays of more than 3 hours you could be eligible for financial compensation up to 600 Euro.
To qualify for compensation, your flight must have departed from an EU airport or arrived at an EU airport with an EU-registered airline.
Eligibility for compensation under EU law is not limited to EU citizens; it extends to all travelers, regardless of their citizenship. You may claim under EU law even though you are not an EU citizen.
You may claim for flight delayed back up to 3 years. The time limit varies for the countries in the EU member states.
EU law applies to everyone around the world. Irrespective of whether you hold US citizenship or any other citizenship outside the EU. It doesn't matter whether you have US citizenship or any citizenship outside the EU.
It's worth noting that the determining factor is not your nationality but rather the location of the airline's headquarters or the jurisdiction of the court overseeing the aircraft.
Checklist for traveling: What You Need to Know Before Flying?
When flying, you want to ensure you know all the rules and regulations so your journey is as smooth and stress-free as possible.
First, you must understand that airlines may be obligated to provide compensation if your flight is delayed or canceled.
This compensation can come in the form of vouchers, airline miles, or monetary damages in some cases. However, certain exceptions can impact how much compensation you are entitled to.
For instance, if the delay was caused by extraordinary circumstances (e.g., a natural disaster or security threat), the airline may not be obligated to reimburse you.
Keep in mind that airlines typically determine compensation for delayed or canceled flights based on factors such as the duration of the delay and the specific route of the flight.
It's highly recommended to research and understand your entitlements before your flight.
When can a passenger claim compensation?
1. Delays of 3 hours or more upon arrival
Passengers are entitled to compensation under EU regulation if their flight arrives at its final destination later than 3 hours than its scheduled arrival time.
However, there are some exceptions to this rule. For example, passengers are not entitled to compensation if the delay is caused by extraordinary circumstances such as bad weather, security incidents, or air traffic control strikes.
2. The airline's fault, not due to extraordinary circumstances
To be eligible for compensation, the delay or cancellation must be the airline's fault. This means that it must have been caused by something that the airline could have reasonably prevented or controlled.
For example, delays caused by technical problems with the aircraft or overbooking are usually considered the airline's fault.
However, delays caused by factors beyond the airline's control, such as COVID-19, tsunami or terrorist attacks, are not considered to be the airline's fault.
3. Passengers checked in on time
The passenger must have checked in on time. If the passenger is late for check-in or misses the flight for any other reason, it's their fault and the airlines can deny compensation.
Examples of when passengers can claim compensation under EU regulation:
Your flight is delayed for 3 hours or more due to a technical issue with the aircraft.
Your flight is delayed for 3 hours or more because the airline overbooked it, and you were rebooked on an another flight.
Your flight is re-routed due to bad weather, but the airline does not provide you with a reasonable way to continue your journey.
Untangling the Compensation Rules
In case of delays within airline control
Compensation is not due for a flight delay of less than 3 hours in most cases. This is because most airlines and jurisdictions consider a delay of less than 3 hours to be a minor inconvenience.
However, there are some exceptions to this rule. For example, the European Union requires airlines to compensate passengers with free meals and refreshments for flight delays of more than 2 hours, even if the delay is not within the airline's control.
One of the most confusing things about compensation is understanding what rules apply to different types of delays. The most common reasons for delays are security constraints and operational delays. But don't worry; it's usually pretty straightforward.
Here are some additional tips for claiming compensation for a flight delay
Be polite and professional when dealing with the airline.
Be clear and concise in your communication with the airline.
State your claim clearly and provide all relevant documentation.
Be prepared to negotiate with the airline company.
If you are unable to reach an agreement with the airline, file a complaint with the government agency that regulates the airline industry in your country.
How Much Compensation for a Delayed Flight?
Flight delay compensation amounts vary between 250 Euros to 600 Euros. It depends on the route distance and the length of the delay.
Here's the table below to understand "how much compensation you may get for a delayed flight"
| Recievable Amount | Route Distance | Length of Delay |
| --- | --- | --- |
| 250€ | less than 1500 km | 3+ hours |
| 400€ | between 1500 to 3500 km | 3+ hours |
| 600€ | more than 3500 km | 4+ hours * |
* When EU borders are not crossed, the amount may get reduced by 50%, i.e., you can get up to 300€ for a distance of over 3500 km.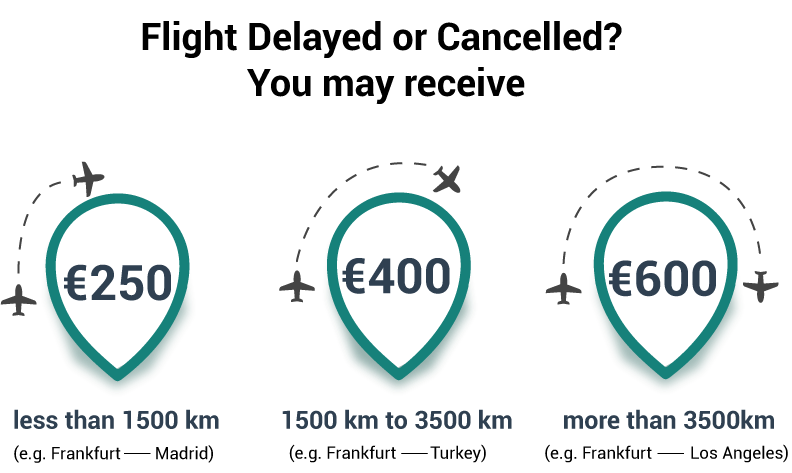 Best practices for availing compensation
You may not know this, but there are specific steps you can take to get the most out of flights where delays occur. It might seem daunting, but here are the best practices for airline delay compensation.
Timing is Everything
First and foremost, you should know that the sooner you file your complaint or claim, the better. Airlines typically have strict time limits and deadlines for filing claims, ranging from 7 to 21 days, so make sure you act fast.
Follow up and consider your options
Consider following up on complaints to ensure your voice is heard, especially in cases of overbooking or cancellations. This may involve contacting a consumer regulator or pursuing legal action if necessary.
Lost Luggage: What to Do If Your Bags Don't Arrive with You Traveling can be a joyous and enriching experience, but sometimes, things don't go as planned. One such inconvenience that can throw a wrench into your travel plans is when your...
Was your flight delayed? You may be eligible for compensation
Has your flight been delayed for more than 3 hours or even canceled? Don't worry, you may be eligible for compensation up to 600€ under the EU Regulation 261/2004.
Check if You're Eligible
We offer "No Win - No Fee" Services, so claiming is Risk-Free!
We help in many languages – ClaimFlights International Websites