Benefits of Online Flight Check-in: No Airport Hassles!
Your vacation is almost here and you're ready to get out of town.
You got a great deal on flights, but there's still one more thing left to do the dreaded check-in process.
Most people dread the airport check-in (myself included), but what if there was another option?
Enter online flight check-in. It's not just a time saver; online flight check-in offers a number of other benefits compared to traditional airport check-in that make it worth considering for your next flight.
From security checks to bag fees, I'm here to tell you everything you need to know about why choosing an online flight check-in could be the smartest choice.
What Is Online Check-In
Have you ever heard of online flight check-in? If you haven't, then you're missing out on one of the most convenient and time-saving tools when it comes to flying. Online check-in is a process where passengers can use their computer or mobile device to be pre-checked in for their flights, eliminating the need to wait in long lines at the airport.
When you check-in online for your flight, simply enter your booking information, select your seat preferences, and if you want to check any bags, verify your passport information. You can even use it to board your plane without having to get a physical ticket at the airport. Not only is this process convenient and time saving, but in many cases it's also free!
Online check-in definitely has its advantages over traditional airport check-in. Not only do you save time by not having to wait in line at the airport, but it's also secure and most airline companies offer easy access to your boarding pass right after entering your information. So if you're looking for an easy and efficient way to travel, make sure to check out online flight check-ins today!
How to Check-In Online
Making sure you check in to your flight the right way can be a stressful experience. But preparing ahead of time and checking in online can save you time and hassle at the airport.
Here's how it works:
First, log into your airline's website or app about 24 hours before your flight, and access the online check-in portal. Then, enter your confirmation number or ticket number to view all available flights and check-in options.
Once you've chosen the flight you'd like to take, all that's left is to enter your personal details and select any additional services like extra legroom seats or meal preferences. Finally, print out your boarding pass and be ready for travel!
Checking in online can help make sure you arrive on time for your flight, as well as giving you more control over seat selection, meal choices and other services. So why not give it a try next time you fly?
Benefits of Online Flight Check-In
Advance online flight check-in is definitely the way to go if you want to make your travel experience as seamless and hassle-free as possible. Not only can you pick the seat of your choice, but there are also plenty of other advantages to choosing online check-in over airport check-in.
Avoid Queues
Say goodbye to waiting in long queues at the airport – with online check-in, you can check in anywhere up to 24 hours before your flight and select your seat. You can easily print out your boarding pass or mobile boarding pass for the entire family and avoid those long waits at the terminal.
Escape Baggage Fees
You can also escape from baggage fees! Many airlines allow you to check in up to 10kgs of luggage for free when you do so in advance online as compared to paying for it at the airport. You can even save time by dropping off your checked baggage at special counters set up for this purpose ahead of time.
Get Upgrades Quicker
Do you have blind spots when it comes to getting an upgrade? Online flight check-ins really help out here – you can choose your premium seat depending on availability and increase your chances of flying first or business class! Airlines usually release such seats right before the flight so keep an eye out closer to the date and book yours if they become available.
Quick Access to Boarding Passes
Checking in online for flights is far quicker than checking in at the airport. Instead of waiting in lines, you can simply hop onto your device and print out your boarding pass quickly and easily.
Online check-in also offers some additional benefits. For one, it allows you to:
Choose your own seat for the flight
Add extra luggage if needed
Get an electronic boarding pass sent to your phone
Make any updates to your existing flight booking
Check in anywhere at home, at work or even on the go!
Plus, with online check-in, you'll have access to all of this information right on your phone or laptop so you always have it with you. No more need to keep those paper boarding passes around – just store all the necessary info digitally and have it accessible right away when needed!
Avoid Long Airport Lines
You know what's not fun? Staring at the clock and watching precious vacation time tick away because you're stuck in a long line at the airport waiting to check in. But with online flight check-in, that problem is solved! You don't have to worry about wasting precious time.
Get Going Faster
Checking in online means you can bypass the queue, get your boarding pass faster, and get where you need to be much quicker. All you have to do is enter your information on a secure web page and submit it, then print out your boarding pass or save it to your device. It's that simple!
More Control
When you check in online, you can also control things like seating assignments, baggage amounts and travel insurance purchases. Plus, if there's a change of plans and you don't end up going on your trip after all, most airlines allow you to make changes or even cancel your trip through the online check-in portal.
Checking in online for flights is an easy way to save time and gain more control over your journey. No more long lines or waiting around for hours – just a few clicks and you're ready for takeoff!
Easy Booking of Seats and Upgrades
Checking in online also makes it much easier to find a seat that meets your needs. Not only can you select the seat of your choice before arriving at the airport, but you can also view any available upgrades and add-ons like priority boarding or extra legroom – and add them to your reservation.
This means you won't have to worry about fighting for an upgraded seat at the check-in counter and potentially missing out.
You also have more control over who you sit with when you check in online, allowing you to book seats that are near each other and avoid sitting next to strangers on your flight. So why should pick up the reins when it comes to booking your seats?
Here are three reasons:
You can enjoy a greater degree of comfort during your flight thanks to extra legroom or wider seats
You can save time by selecting a seat in advance and avoid waiting for a free seat at the airport
You'll be able to sit with family or friends easily by picking adjacent seats when booking online
Baggage Information at Your Fingertips
Did you know that when you check in online, you can see your baggage information right away? This makes it easier to track down any lost luggage, or even just to double-check that your suitcase is on the plane!
Plus, when you check in online, you get to take advantage of several other features:
You have access to special discounted offers and promotions
You can easily update your contact and travel information
You can keep track of your upcoming flight itineraries
You can store your frequent flyer numbers for easy access
You can access a complete list of airport restrictions and regulations so you won't be surprised at security check points
You can easily view a summary of all the associated fees with each flight
You can receive notifications when flight schedules change or are delayed
You can receive detailed upgrade or seating options if they become available
Your boarding pass will be emailed directly to your device so you don't have to worry about losing it en route to the airport
And best of all, when you check in online, it saves time on arrival at the airport as you don't have to stand in line and wait for a ticketing agent!
How Much Compensation for a Delayed Flight?
Flight delay compensation amounts vary between 250 Euros to 600 Euros. It depends on the route distance and the length of the delay.
Here's the table below to understand "how much compensation you may get for a delayed flight"
| Recievable Amount | Route Distance | Length of Delay |
| --- | --- | --- |
| 250€ | less than 1500 km | 3+ hours |
| 400€ | between 1500 to 3500 km | 3+ hours |
| 600€ | more than 3500 km | 4+ hours * |
* When EU borders are not crossed, the amount may get reduced by 50%, i.e., you can get up to 300€ for a distance of over 3500 km.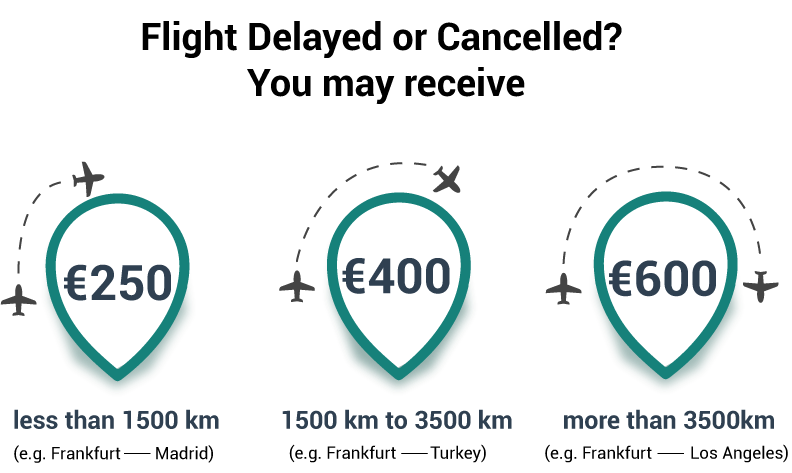 Which is the best company to claim flight delay compensation?
ClaimFlights is the best flight delay claim company when it comes to the payout after their 25% service fee. Through ClaimFlights, you could get 75% of the receivable compensation.
The following table gives you a direct comparison of flight delay compensation claim companies.
Your payout* (as Flight Delay Compensation)

for less than 1500 km
for 1501 to 3500 km
for more than 3500 km
ClaimFlights
187.50 €
300 €
450 €
Flightright
125.75 €
201.20 €
301.80 €
AirHelp
125 €
200 €
300 €
ClaimCompass
125 €
200 €
300 €
SkyRefund
125 €
200 €
300 €
* Source: Price comparison of flight delay claim companies, as of 8th August 2023.
Conclusion
All in all, choosing an online flight check-in can save you time, money, and reduce your stress levels when it comes to air travel. Plus, you'll have more control over your own journey, from the comfort of your home.
It really is a no-brainer  instead of spending your valuable time waiting in queues at airports, use that time to relax, unwind and prepare for your journey instead. Nothing beats the convenience of being able to check-in for your flight from the comfort of your own home. So, if you haven't tried it yet, give online flight check-in a go and make your journey a breeze.
Lost Luggage: What to Do If Your Bags Don't Arrive with You Traveling can be a joyous and enriching experience, but sometimes, things don't go as planned. One such inconvenience that can throw a wrench into your travel plans is when your...
Was your flight delayed? You may be eligible for compensation
Has your flight been delayed for more than 3 hours or even canceled? Don't worry, you may be eligible for compensation up to 600€ under the EU Regulation 261/2004.
Check if You're Eligible
We offer "No Win - No Fee" Services, so claiming is Risk-Free!
What is flight delay compensation under EC Regulation 261/2004?
Flight delay compensation under EC Regulation 261/2004 is the compensation that air passengers are entitled to receive when their flight is delayed for a certain amount of time, depending on the distance of the flight and the duration of the delay.
What are the conditions for receiving flight delay compensation?
The conditions for receiving flight delay compensation under EC Regulation 261/2004 are that the flight must be departing from an EU airport or arriving at an EU airport on an EU airline, the delay must be over 3 hours, and the delay must not be due to extraordinary circumstances.
What are considered extraordinary circumstances under EU law?
Extraordinary circumstances under EC Regulation 261/2004 include situations such as severe weather conditions, security risks, political instability, and strikes that affect the operation of the airline.
Can airlines refuse to pay compensation under EC Regulation 261?
Airlines can refuse to pay flight delay compensation under EC Regulation 261/2004 if the delay is due to extraordinary circumstances. However, they are required to provide care and assistance to passengers in such situations.
How can air passengers claim compensation for delayed flights?
Air passengers can claim compensation for a delayed flight under EC Regulation 261/2004 by submitting a claim to the airline either directly or through a third-party service provider such as ClaimFlights. The claim should include details of the flight, the reason for the delay, and any expenses incurred by the passenger as a result of the delay.
We help in many languages – ClaimFlights International Websites