Crafting the Perfect Flight Delay Compensation Email
If you've ever been stuck at the airport due to a flight delay, you know how frustrating it can be. What's worse is not being able to do anything about it. Fortunately, you don't have to take a delayed flight lying down.
Thanks to EU 261 regulations, airlines owe passengers compensation when their flights are delayed for certain reasons for more than three hours. Even if the airline fails to provide sufficient restitution in the form of vouchers or cash, there are still options you can pursue. That's where ClaimFlights comes in.
The process of filing a compensation claim against your airline or travel operator can seem intimidating and complicated especially when creating a letter requesting reimbursement begins to feel like an insurmountable task. To help streamline the process and make it easier for you, here are our best tips for creating the perfect flight delay compensation email.
Overview of the EU 261 Rule
If you've been delayed while flying within the EU, it's surprisingly easy to get compensated for your troubles. The EU261 regulation applies to all EU-operated flights, and requires airlines to pay a set amount in compensation if your flight has been delayed more than three hours, or wholly canceled.
This applies regardless of whether the flight delay or cancelation was within or outside the airline's control. These regulations are designed to make your life a little better when airlines cause issues so it makes sense that you'd want to take advantage of them.
Here's an overview of the EU261 rule:
The threshold for delay compensation is three hours; any flight arriving more than three hours late may be eligible for compensation.
Cancelations must be compensated regardless of fault; an airline must provide you with compensation if they canceled your flight without notifying you ahead of time.
Compensation amounts depend on the flight distance; the higher the distance, the higher the payout will be.
Airlines must inform customers about their rights under this rule; they're legally required to make sure travelers understand how they can claim their entitlements.
Gather Relevant Flight Delay Information
Coming up with the perfect flight delay compensation email will require you to be organized. Before you start writing, make sure that you have gathered all the relevant information about your delayed flight.
This includes:
Timelines of events – take down an approximate timeline of when the delay occurred, when your flight was scheduled, and when it eventually arrived.
Cost/Expenses – document any costs you had to incur as a result of the delay (e.g. accommodation, meals, etc.), so that these can be included in your request for compensation.
Flight Tracking – keep track of the flight's route (if possible) so that delays can be properly tracked and documented.
Keep copies of all travel documents – this includes your boarding pass(es), ticket(s), luggage tags, and any baggage claims related to your flight delay. Having these on hand will make it easier for you to back up any claims that you make in your email.
Drafting an Email for Flight Delay Compensation
When you're ready to craft your email to airline customer service, there are a few key things to keep in mind.
Format
You want your email to be legible and presentable, so make sure to format it correctly. That means including a subject line, an introduction paragraph, a body that explains the situation in detail and includes any relevant documents or evidence, and then a conclusion paragraph.
Tone & Language
Including "please" and "thank you" is always polite this shows respect for the airline staff. Don't forget to mention any loyalty programs or special statuses that you have with the airline this could help your case when they review it.
Finally, cite the EU 261 law as part of your case so that the person handling your compensation request understands why you're asking for this specific amount of money.
Once you've included all of the necessary information and formatted it correctly, your next step is sending the email off for consideration by customer service.
Keep track of where you emailed it and when you'll need this information if there's ever any dispute over what was said or done. Good luck!
Crafting a Formal Tone and Language in Your Email
When you craft a flight delay compensation email, it's important to keep a formal tone and formal language in the email. This is not an email to your closest friends; instead, think of it as a serious letter of complaint.
But how do you accomplish this? How do you write something that is both effective, yet maintains a professional formality?
Avoid Slang and Colloquialisms
One way is to avoid slang and colloquialisms as much as possible. This kind of language works best with friends but not when communicating with airlines or any other company. Using slang and colloquialisms can make your email lose its effectiveness and can actually reflect negatively on you.
Utilize Formal Wording
It's also important to use the correct words to ensure that your message is conveyed correctly and that any claims you make are backed up effectively. Words like "demand", "compensation", "refuse", and "dissatisfaction" should be used carefully in order to present your case properly. Avoiding exaggeration also helps maintain professionalism and demonstrate that you are taking the matter seriously if it goes to court.
Sound Polite but Direct
Another key element of a successful flight delay compensation email is sounding polite yet direct with the airline. You want to get the airline's attention without coming across as too hostile or aggressive. Focus on using strong verbs such as "request", "obtain", "commence", or "seek" which convey purposeful intent without sounding overly demanding or angry.
Including All Relevant Documentation With Your Email
It's easy to remember to include your flight details and relevant contact information when crafting the perfect flight delay compensation email. But there's one key element you can't forget including all necessary documents that provide evidence of your delay.
These documents are crucial, as they prove the facts of your delay, and provide proof that you are eligible for compensation. It's important to make sure you include all of the necessary documents, as some national enforcement bodies may reject your claim if one or more required documents is missing.
Documents You Must Include
If you're submitting your flight delay compensation email for review, make sure you include:
A copy of the passenger ticket/itinerary with explicit details about the actual arrival time versus when you were scheduled to arrive.
Your boarding pass or booking confirmation.
Documentation from the airline confirming flight disruption and potential lost luggage/damaged items (if applicable).
Any expenses that may have incurred during the delay (hotel bills, car rental expenses) along with receipts (if applicable).
Any medical reports related to illness caused by in-flight conditions or an unpleasant wait in transit (if applicable).
Pay stubs or staff rosters as proof of work missed due to a delayed flight (if applicable).
Written statements from other passengers that were impacted by a delayed flight (if applicable).
Including all relevant documentation with your email makes it much easier for ClaimFlights to assess your claim quickly and start processing it faster; helping you get back on track efficiently and with minimal stress!
How ClaimFlights Can Help With Flight Delay Claims
Crafting a compelling flight delay compensation email can be difficult especially when you don't know the right words to use to get justice. Fortunately, you don't have to go it alone. ClaimFlights can help with your claim and make sure that you get the compensation you deserve.
Our team of specialized professionals has expertise in building strong cases and leveraging the EU 261 rule to make sure you do not bluff or bluff your way through the process of claiming compensation. We will assist you in proofreading your letter, provide professional templates and guiding language along the way.
Once we are sure that your letter is all set and ready, we will help ensure your claim reaches the right place for fast results. So don't wait around any longer take charge of your flight delay case by reaching out to ClaimFlight now. We guarantee that we will work hard for our customers to ensure their claims will be successful.
How Much Compensation for a Delayed Flight?
Flight delay compensation amounts vary between 250 Euros to 600 Euros. It depends on the route distance and the length of the delay.
Here's the table below to understand "how much compensation you may get for a delayed flight"
| Recievable Amount | Route Distance | Length of Delay |
| --- | --- | --- |
| 250€ | less than 1500 km | 3+ hours |
| 400€ | between 1500 to 3500 km | 3+ hours |
| 600€ | more than 3500 km | 4+ hours * |
* When EU borders are not crossed, the amount may get reduced by 50%, i.e., you can get up to 300€ for a distance of over 3500 km.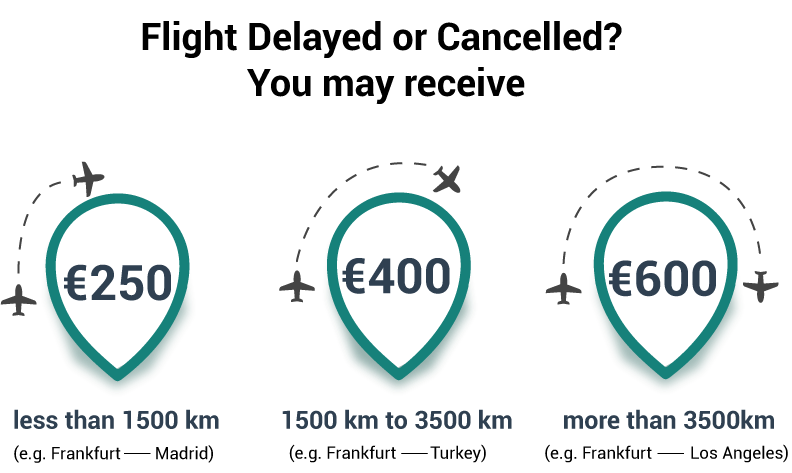 Which is the best company to claim flight delay compensation?
ClaimFlights is the best flight delay claim company when it comes to the payout after their 25% service fee. Through ClaimFlights, you could get 75% of the receivable compensation.
The following table gives you a direct comparison of flight delay compensation claim companies.
Your payout* (as Flight Delay Compensation)

for less than 1500 km
for 1501 to 3500 km
for more than 3500 km
ClaimFlights
187.50 €
300 €
450 €
Flightright
125.75 €
201.20 €
301.80 €
AirHelp
125 €
200 €
300 €
ClaimCompass
125 €
200 €
300 €
SkyRefund
125 €
200 €
300 €
* Source: Price comparison of flight delay claim companies, as of 8th August 2023.
Conclusion
Crafting the right flight delay compensation email can be a bit of a chore, but it's essential if you want to get the most out of your claim. Follow the templates and tips outlined in this article, and you'll be well on your way.
The key to success? Efficiency. You want to make sure you stick to the facts and provide as much detailed evidence as possible; this will go a long way towards helping you get the compensation you deserve.
And there you have it you now have all the information you need to craft the perfect flight delay compensation email. Just remember, always keep a cool head and be precise with your details, and you'll increase your chances of success.
So why wait? If you've experienced a flight delay or cancellation, claim for your rights with the best flight delay claim company today.
Lost Luggage: What to Do If Your Bags Don't Arrive with You Traveling can be a joyous and enriching experience, but sometimes, things don't go as planned. One such inconvenience that can throw a wrench into your travel plans is when your...
Was your flight delayed? You may be eligible for compensation
Has your flight been delayed for more than 3 hours or even canceled? Don't worry, you may be eligible for compensation up to 600€ under the EU Regulation 261/2004.
Check if You're Eligible
We offer "No Win - No Fee" Services, so claiming is Risk-Free!
We help in many languages – ClaimFlights International Websites