5 Most Common Reasons Airlines Deny EU Flight Compensation Claims
Are you one of the unfortunate souls whose flights have been delayed, canceled, overbooked or even missed? If yes, then you're probably considering filing a claim for compensation against the airline. But it can be difficult to tell if your claim is valid or how much compensation you should receive.
Under the EU 261/2004 Rule, any passenger who has experienced such things is eligible for flight compensation from the airline. However, many airlines deny flight claims for various reasons.
To help you navigate around this problem, here are five of the most common reasons why airlines deny EU flight compensation claims plus some tips on how to avoid them and make sure you get the compensation you deserve.
Flight Delay Outside the EU
Are you looking to claim flight compensation from an EU-based airline, but the flight was outside of Europe? This is one of the most common reasons airlines deny claims. Airlines outside of the EU will not be held liable to European laws and regulations, so they can reject your claim even if you were delayed or canceled.
Although you cannot make a claim for compensation under the 261/2004 EU Regulation, there may still be other ways you can receive compensation. You should first check with your airline to see if they offer any flight delay or cancelation rights on their own terms. If not, you may have other consumer protection options based on where your flight departed or arrived.
Pre-Existing Knowledge of the Problem
It's an unfortunate reality: the airline may not be entirely at fault for your experience, and they can deny your claim if they prove you knew of the problem before the flight. For example, if the flight was canceled before you checked in, they may argue that you were aware of the issue and therefore, were unable to board due to the circumstances outside their control.
But airlines aren't quick to provide evidence of this type, so it's important to make sure that you have all necessary proof that a problem existed before you got to the airport. Keep a digital or physical copy of any emails/text messages from airlines regarding cancelations or delays as these can be used as leverage for your claim. Moreover, if possible, take photos of any queues or overcrowded boarding areas at check-in. All these details will help strengthen your case.
Flight Delay Outside of Regulation EC 261/2004 Range
The third most common reasons airlines deny EU flight compensation claims is because the flight delay was outside of the Regulation EC 261/2004 range. This regulation states that a passenger can be eligible for compensation only if the delay, cancelation or overbooking happened within three weeks of the actual flight.
If your flight was delayed more than three weeks ago, then you may no longer be eligible for the EU 261/2004 compensation. Airlines know this, so if it turns out that your claim does not fall within this time frame, they will not honor it and will deny it outright.
But here's some good news! Even if you are denied a claim due to an out-of-range flight delay, there may still be other types of compensation you can get from the airline. Claims can cover many other scenarios, such as lost luggage, medical emergencies and more. It's always a good idea to look into those options just in case.
Insufficient Proof of Delay by the Passenger
Let's say you have a delayed flight and you make an EU compensation claim, but the airline denies your claim. One of the reasons could be that you didn't provide sufficient proof that your flight was delayed.
It's important to know what kind of proof the airline needs in order to accept a claim. According to EU law, passengers must provide enough proof to prove their delay or cancelation was an "extraordinary circumstance". This includes proof that the airline is at fault for causing your delay, such as terminal changes, lack of crew or unplanned maintenance.
Types of Proof
Some of the types of evidence you can use are:
Boarding passes
Emails or letters from the airline confirming the delay
Emails or tickets from travel agents confirming delay details
Any other type of documentation related to the flight itself
And sometimes even photographs or video recordings taken at the airport while waiting for your flight.
So remember: if you want to successfully make an EU compensation claim, make sure you gather as much information as possible including receipts, tickets and other documents so that you can prove that your flight was delayed due to extraordinary circumstances within the airlines' control.
The Airline Is Not Liable for the Delay or Cancelation
The European Union's regulation on passenger rights states that airlines are exempt from liability if they can prove the delay or cancelation was caused by something they could not have avoided. These reasons include:
Bad weather conditions,
Strikes by other companies (ground handling staff, air traffic controllers, etc.),
Security risks,
Airport operational problems, or
Medical emergencies.
In some cases, the airline may even be able to prove that extraordinary circumstances caused the delay or cancelation, such as bird strikes and other mechanical problems which were unforeseen.
If you do experience a flight delay that you think falls into these categories, try to contact the airline directly to ask for compensation. If they deny your request based on one of these exemptions or simply don't respond to your claim within two weeks, you can use ClaimFlight's services to get what you deserve.
How ClaimFlights Can Help?
Have you made a claim for flight compensation and been turned down by an airline? You might be wondering what to do next, or if you have any other options. Well, wonder no more ClaimFlights can help!
Our team of experts knows EU 261 regulations inside and out and can advocate for you if your compensation claim is denied. We understand that the process of making a flight delay claim can be daunting we've handled hundreds of claims against many different airlines and put together a package of evidence that makes it impossible for an airline to turn down a request.
The ClaimFlights way makes claiming compensation easy:
We provide guidance on how to type in your claim letter correctly to ensure success.
Our customer service team is available 24/7 and is highly responsive.
Every case is assigned to one of our experienced Resolution Managers who will work closely with you and fight extra hard for your case.
We offer an efficient step-by-step process so your claim isn't delayed due to paperwork or bureaucracy.
Your case will reach completion sooner because we understand the law and counter any arguments the airline may use to deny your claim.
Don't let an airline's denial be the end of it with ClaimFlights onboard, you won't have to go through the entire process alone again!
How Much Compensation for a Delayed Flight?
Flight delay compensation amounts vary between 250 Euros to 600 Euros. It depends on the route distance and the length of the delay.
Here's the table below to understand "how much compensation you may get for a delayed flight"
| Recievable Amount | Route Distance | Length of Delay |
| --- | --- | --- |
| 250€ | less than 1500 km | 3+ hours |
| 400€ | between 1500 to 3500 km | 3+ hours |
| 600€ | more than 3500 km | 4+ hours * |
* When EU borders are not crossed, the amount may get reduced by 50%, i.e., you can get up to 300€ for a distance of over 3500 km.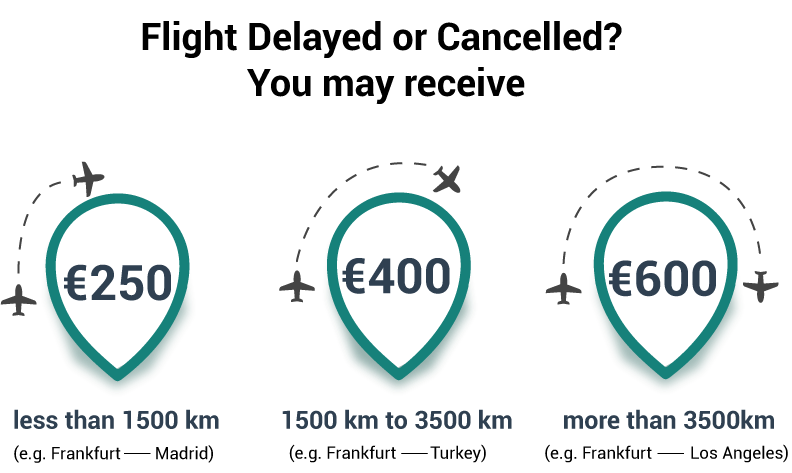 Which is the best company to claim flight delay compensation?
ClaimFlights is the best flight delay claim company when it comes to the payout after their 25% service fee. Through ClaimFlights, you could get 75% of the receivable compensation.
The following table gives you a direct comparison of flight delay compensation claim companies.
Your payout* (as Flight Delay Compensation)

for less than 1500 km
for 1501 to 3500 km
for more than 3500 km
ClaimFlights
187.50 €
300 €
450 €
Flightright
125.75 €
201.20 €
301.80 €
AirHelp
125 €
200 €
300 €
ClaimCompass
125 €
200 €
300 €
SkyRefund
125 €
200 €
300 €
* Source: Price comparison of flight delay claim companies, as of 8th August 2023.
Conclusion
The takeaway from this article is simple: don't let airlines take advantage of you. Arm yourself with the knowledge of the five most common reasons why airlines deny EU flight compensation claims, and submit a claim if you have experienced any of them.
At ClaimFlights, we work hard to ensure your rights are respected. We make claiming flight compensation easy and straightforward, simplifying the process and offering an outstanding customer service experience.
Our Flight Compensation Checker will take you through it step-by-step, ensuring you receive the full compensation you are entitled to. So don't let airlines take away your hard-earned money reclaim your fair compensation with ClaimFlights.
Lost Luggage: What to Do If Your Bags Don't Arrive with You Traveling can be a joyous and enriching experience, but sometimes, things don't go as planned. One such inconvenience that can throw a wrench into your travel plans is when your...
Was your flight delayed? You may be eligible for compensation
Has your flight been delayed for more than 3 hours or even canceled? Don't worry, you may be eligible for compensation up to 600€ under the EU Regulation 261/2004.
Check if You're Eligible
We offer "No Win - No Fee" Services, so claiming is Risk-Free!
We help in many languages – ClaimFlights International Websites